Details

package complimentary tour

According to cruise line schedules




Lunch meal in the desert is included
Mineral water during the tour is included

Comfortable clothing and, comfortable walking shoes are recommended.

The terrain may be uneven or steep cameras, Guests must be in good physical shape.

All transfers by a private air-conditioned vehicle
Riding buggy for 02-03 hours including lunch
Egyptologist tour guide


Optional & extra activities

Day tour in Cairo
The great pyramids of Giza & the mysterious Sphinx, Safari with a Dune Buggy at the Pyramids desert.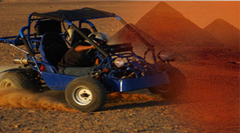 Tour details:
Depart the pier for the approximate 3-hour drive through the flat desert landscape to Africa's largest city, Cairo. Upon reaching the outskirts of Cairo, you will proceed to the Giza Plateau to discover the only remaining Wonder of the Ancient World, the Pyramids of Giza. It is here that three pharaohs, Cheops, his son Chephren and grandson Mykerinus, built great tombs to protect their mummified bodies in the afterlife. Free time will be taken for photos and for those wishing, to walk closer to the pyramids. You will then drive to the high western plateau for panoramic views and photo opportunities of the valley and all the pyramids below.
Next, travel to the guardian of the mortuary complex, the mysterious Sphinx. Carved out of a solid natural rock around 2650 B.C., the Sphinx has the head of a man, body of a lion and stretches out to a length of 240 feet. You will have approximately 20 minutes for free time for photos and to explore.
Dune Buggy at Pyramids.
Will pick you up from Giza to enjoy the only place in Egypt where you can experience the wonders of the ancient world through the buggy tour experience. Our tour starts from what can be considered an oasis in the desert near the pyramids of Sakkara; from the minute you exit into the desert you will be greeted with a panoramic view of the great pyramids of Giza, the step pyramid of Sakkara and the ruins of Abu suir all at the same time. What is unique about this tour is getting there is half the fun, our amazing 2 seats 250cc buggies can reach speeds of up to 40 mph, racing you up down and around the amazing sand dunes in an experience that will keep you smiling. Safety is very important to us and all our buggies comes with a full racing roll cage (protection in the event of a roll over), full racing harness for both seats and wrist restraints.
Please note these buggies are 2 seats but the driver must be of at least 14 years of age, younger people will only be allowed as passengers.
Please note: this itinerary is flexible
Tour terms and conditions